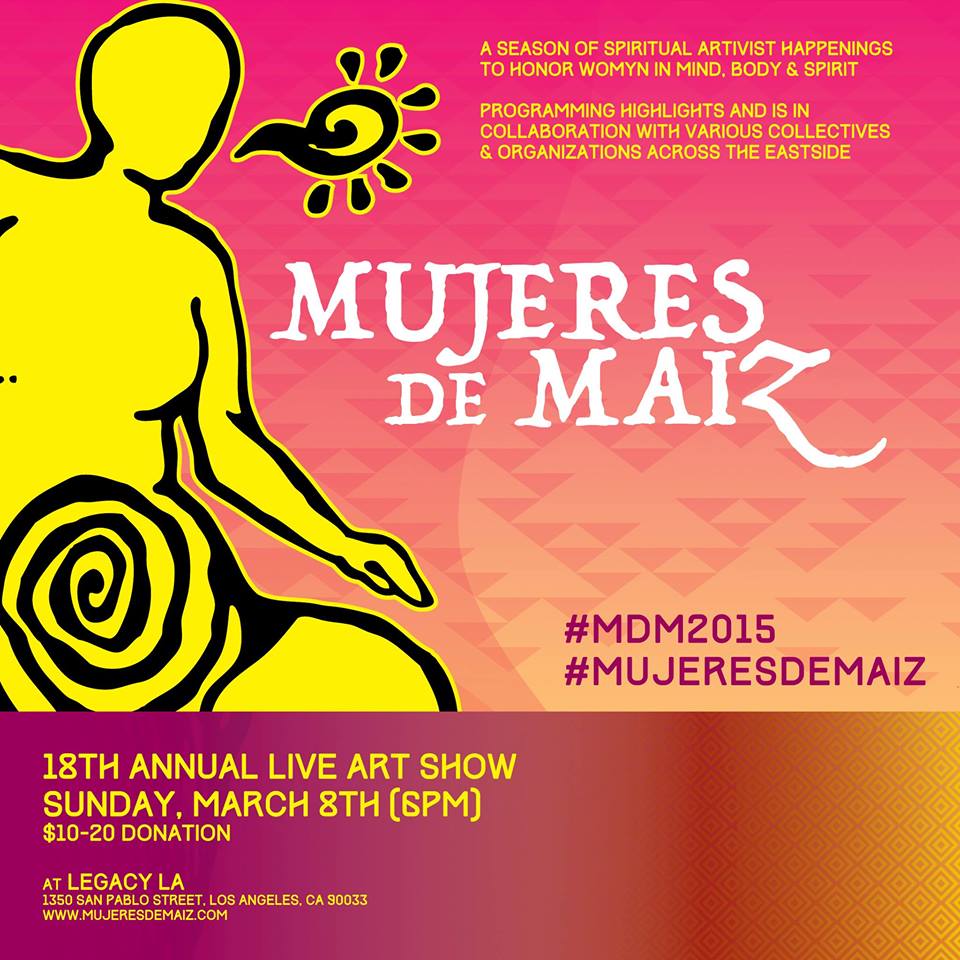 Mujeres de Maiz 18th Anniversary Live Art Show Festival

Destani will be featured at the highly anticipated Annual Intercultural, Interdisciplinary, Intergenerational Mujeres de Maiz Artivist concert, ceremony and festival featuring womyn of color and Q/T performers honoring our 18th Anniversary, International Womyn's Day and Womyn's Herstory Month and the coming of Spring & Mexica New Year since 1997.
DATE:
Sunday, March 8th, 2015
TIME:
(6:00-9:00pm) *Marketplace opens at 5:30pm
LOCATION:
Legacy LA
1350 San Pablo Street,
Los Angeles, CA 90033
(behind General Hospital and near Hazard Park)
DONATION
$10-$20 Donation at the door, sliding scale.
Credit Cards and exact change accepted.
*This is also our 1 big fundraiser of the year to provide free and low cost programming and to fund our soon to be non-profit!
ARTIVISTS FEATURED INCLUDE:
Music,
Spoken word,
Dance,
Art
Political speakers
y mas!
with…
3 Generaciones
Destani Wolf
D'Lo
Get Lit – Words Ignite Youth Poets Tashi & Camille
Maya Chapina
Mujeres en Resistencia
and more announced every week!
MUJER MERCADO/MARKETPLACE
Opens at 5:30pm with over 20 womyn & Q/T vendors selling artesania, jewelry, books, holistic health items, art and much more. Mujeres de Maiz t-shirts, past and NEW Zines will also be available!
*Vendors please fill out this form to be considered:
http://goo.gl/forms/63ZabnEv6T
MORE DETAILS:
-All Ages w/ Limited Seating.
-Event is wheelchair accessible.
-Please inbox us for accommodation needs.
-Free parking on surrounding streets.
-This is an alcohol and drug free Event for the health of our communities and families.
-Healthy food will be available for purchase.
Please invite friends, repost, and help us pass la palabra sagrada! ♥ Gracias/Thank you/Tlazocamati
Don't forget… Earlier in the day (12pm) join Ovarian Psyco-Cycles and Affirm Gabnet's march/rally starting at LA City Hall and ending at Mariachi Plaza. https://www.facebook.com/events/538207992988172/